HELMET PLATE OF FIREFIGHTERS OF THE CITY OF MOULIN-L-M-T, type 1855, Second Empire. 24787
HELMET PLATE OF FIREFIGHTERS OF THE CITY OF MOULIN-L-M-T, type 1855, Second Empire. 24787

In brass stamped with a crowned imperial eagle with outstretched wings holding in its claws the sparkling spindle of Jupiter with two laurel branches with the inscription "SAPEURS POMPIERS DE MOULIN-L-M-T".

France.
Second Empire.
Average condition, accidents and losses.


Reference : 24787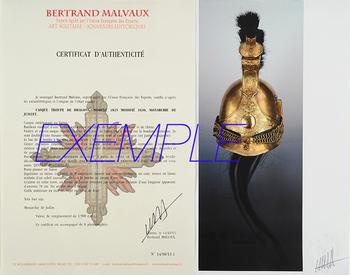 Prochaine mise à jour vendredi 15 décembre à 13H30
Next update on 15 December at 13h30
Nächste Aktualisierung, den 15. Dezember um 13.30

POUR TOUT ACHAT, PAIEMENT EN PLUSIEURS CHÈQUES POSSIBLE

bertrand.malvaux@wanadoo.fr 06 07 75 74 63



FRAIS DE PORT

Les frais de port ne sont calculés qu'une seule fois par commande pour un ou plusieurs objets, les envois sont tous recommandés, car c'est le seul moyen d'avoir une preuve de l'envoi et de la réception. Pour les colis dont la valeur ne peut être assurée par la Poste, les envois sont confiés à la société DHL ou Fedex avec valeur réelle assurée, le service est de qualité mais le coût est plus élevé.



DROIT DE RETOUR

Les objets peuvent être retournés dans un délai de 8 jours après leur réception. Il faut les retourner en recommandé aux frais de l'expéditeur, dans leur emballage d'origine, et dans leur état d'origine,



AUTHENTICITÉ

La sélection des objets proposés sur ce site me permet de garantir l'authenticité de chacune des pièces qui y sont décrites, tous les objets proposés sont garantis d'époque et authentiques, sauf avis contraire ou restriction dans la description.
Un certificat d'authenticité de l'objet reprenant la description publiée sur le site, l'époque, le prix de vente, accompagné d'une ou plusieurs photographies en couleurs est communiqué automatiquement pour tout objet dont le prix est supérieur à 130 euros. En dessous de ce prix chaque certificat est facturé 5 euros.
Seuls les objets vendus par mes soins font l'objet d'un certificat d'authenticité, je ne fais aucun rapport d'expertise pour les objets vendus par des tiers (confrères ou collectionneurs).